Always Believe
Always believe that life is full of magic and opportunities to create and play. Have fun with your experience to Galaxy's Edge by immersing yourself in the environment. Use our guide to select items to create your personal character to live out your very own Star Wars adventure.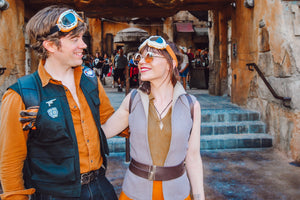 Please note: This store is guided through Amazon affiliate marketing. All merchandise links are Amazon affiliate links to products we feel best represent the style of Galaxy's Edge. Many items are the same ones purchased and worn by us in previous videos, however, not all.
We are a participant in the Amazon Services LLC Associates Program, an affiliate advertising program designed to provide a means for us to earn fees by linking to Amazon.com and affiliated sites.